Advertisement

The latest chapter of My Hero Academia Vigilantes brought many new revelations about the main villain of the story. Fans are intrigued to know about the past life of Number Six and how he grew up. Much like Tomura Shigaraki, he was also brought up under villainous principles by All For One. In My Hero Academia Vigilantes Chapter 112, fans will see if Number Six survives the bomb explosions in the building or not. Here is all you need to know about the chapter.
In the forthcoming chapter, Koichi will face Soga after running away from the battlefield. As Knuckleduster covered him, he felt that he could slow down from the running. However, Soga was chasing him all along the track. Thus, he will stop and aid the new enemy that is seeking revenge for Number Six.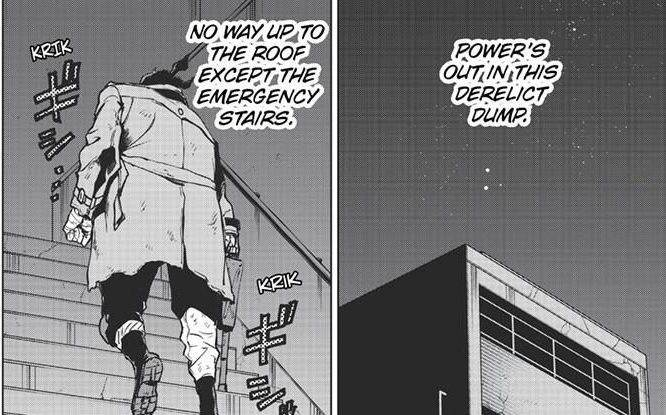 My Hero Academia Vigilantes Chapter 112: Plot Details
In the next chapter, Number Six will try his best to take away the detonator from Knuckleduster. However, it is most likely that the delinquent will bombard the entire building along with Number Six. But there is a lesser chance that Number Six will get killed in the explosion. His end will not come from a natural tragedy just yet. Injured from the burn wounds, Number Six might not be able to escape the building and will be caught by the police authorities.
On the other hand, Koichi has realized that Soga is chasing him. He looked back only to find him approaching him faster. My Hero Academia Vigilantes Chapter 112 is likely to feature a bowl between these two. After Number Six is arrested and rushed to the hospital, Soga will plan revenge upon Koichi. Crawler will try to avoid his fight and escape, but the battle is inevitable.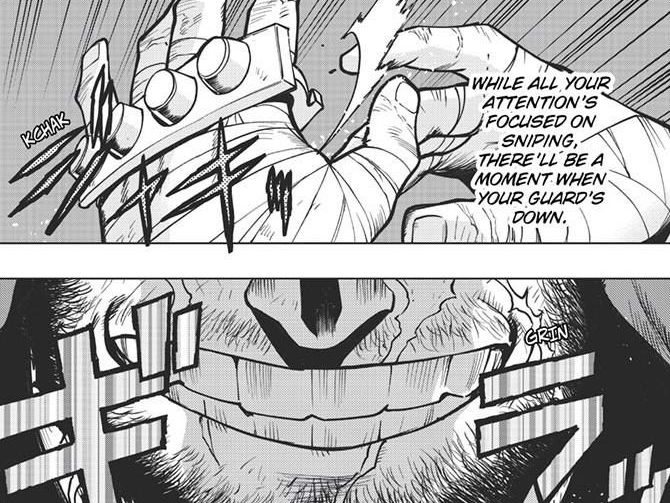 Previous Chapter Recap!
The last outing began with the Knuckleduster trying to make a plan to reach Number Six and capture him without letting him get closer. As he was evaluating all his plans, fans saw the past life of Number Six. Doctor Kyudai Garaki and All For One come across an ill child named 'Experiment No. 6' who suffered from agnosia. The doctor said that the mental condition of this boy was not fit to suit the academy. But All For One disagreed and saw massive potential in the young delinquent.
Cut to present, Knuckleduster began to charge a wave of punches on Number Six. He decided that if he gave any chance to his opponent, he might get shot by a bullet. During the fight, he told Number Six that he should leave the villains' side and join the heroes. Both his quirk and his wits are in alignment with the hero world. He also said that a man is not made by his quirk but by his will. The chapter ended with Knuckleduster showing a detonator to Number Six. He said that the building and he were about to explode.
My Hero Academia Vigilantes Chapter 112: Release Date
The Return of the Fist turned out to be a huge help for Crawler. However, Number Six remains a threat to Koichi. How will he defeat his biggest arc enemy? My Hero Academia Vigilantes Chapter 112 will release next Friday on October 23, 2021. Fans will find all the chapters of the manga only on the official website of Viz Media and Shonen Jump. Keep an eye on this corner for more updates.
Advertisement